Become a hero of the virtual space! #virtualspacehero 🚀
"No matter what people tell you, words and ideas can change the world."  Robin Williams
I had the pleasure to discuss just recently with Joshua in one of my LinkedIn LIVEs the question "How to shape meaningful interaction in the virtual space?"
🦸🏼 📢 Link to the recording HERE or please read through a blog post summarising the main points of our discussion HERE
👉 get an immediate notification when I go LIVE 🎥🎙️ the next time by connecting with me on LinkedIn BarbaraCV
During our preparation we were exchanging on our practices and one of the many things we have in common is: we love experimenting with converting F2F formats and bring them into the virtual space #virtualspacehero. And among many of the points we discussed, there was also the idea born to pair up our knowledge and practice on "How to organise and facilitate a virtual World Café?"
What is a World Café?
The World Café methodology is a simple, effective, and flexible format for hosting small to large group dialogue. It is a creative process for sharing knowledge and creating possibilities for action in groups of all sizes, building on the notion of group intelligence. The World Café is an excellent tool to encourage participant interaction, the World Café can foster deeper engagement with complex or challenging issues. You usually start with setting an overall topic for your World Café: within that topic, 3 – 5 key questions are formulated for discussion; and each question is assigned to a specific table host (an expert or someone with strong interest in the question).
At your World Café event, tables (one per question) are set up in 'café' style to create a relaxed, informal ambience). Very often you also invite participants to get a coffee or tea before the World Café discussion rounds start. Participants divide and choose (or are assigned to) a table to start the process. The host provides a brief introduction, and then participants discuss the question. When time is up, the participants rotate to the next table, while the host stays behind to introduce the question once more and summarize the preceding discussion for a new set of participants. How participants rotate is totally up to you: while it sometimes makes sense that participants from each table rotate clockwise (or counterclockwise) to the next table, we also had the experience that allowing for "free-floating" can be enriching.
When another discussion round starts, the host of that table provides a short summary of the main points and the new participants then add their insights to the question, refining or modifying the contributions of the previous group. Depending on your design, this step is repeated until everyone discusses each question. A concluding plenary wraps up the discussion. Usually hosts are invited to summarise during the last round the key takeaways for example on a flipchart and share that during the plenary session with everyone.
The tremendous benefit of the World Café is that by dividing a large group into smaller subgroups, conversations can be made more focused, relaxed and participatory, with greater opportunity for all participants to speak and contribute equally – thereby encouraging authentic sharing of experiences and knowledge. Rotation of groups from one table to the next adds value to the discussion, by allowing a group to build on the previous group's thoughts and ideas about a particular issue. A powerful resource to find out more about the method itself is http://www.theworldcafe.com
The World Café Design Principles
A World Café should follow design principles (TWC):
Clarify the Context
:

It is important to clarify the purpose and broad parameters within which the dialogue will unfold.

Create Hospitable Space:


Ensure the welcoming environment and psychological safety that nurtures personal safety and mutual respect.

Explore Questions That Matter:


Make sure you focus the collective attention on powerful questions that attract collaborative engagement.

Encourage Each Person's Contribution
:

Enliven the relationship between the "me" and the "we" by inviting full participation and mutual interaction.

Cross-pollinate and Connect Diverse Perspectives: 


Intentionally increase the diversity and density of connections between perspectives while retaining a common focus on core questions.

Listen Together for Patterns, Insights, and Deeper Questions
:

Vitally, encourage shared attention in ways that nurture coherence of thought without losing individual contributions.

Harvest and Share Collective Discoveries
:

Make collective knowledge and insight visible and actionable.
The World Café Etiquette
In addition to the design principles there are some simple rules of etiquette that help to get the most from a World Café workshop (Simon 2020):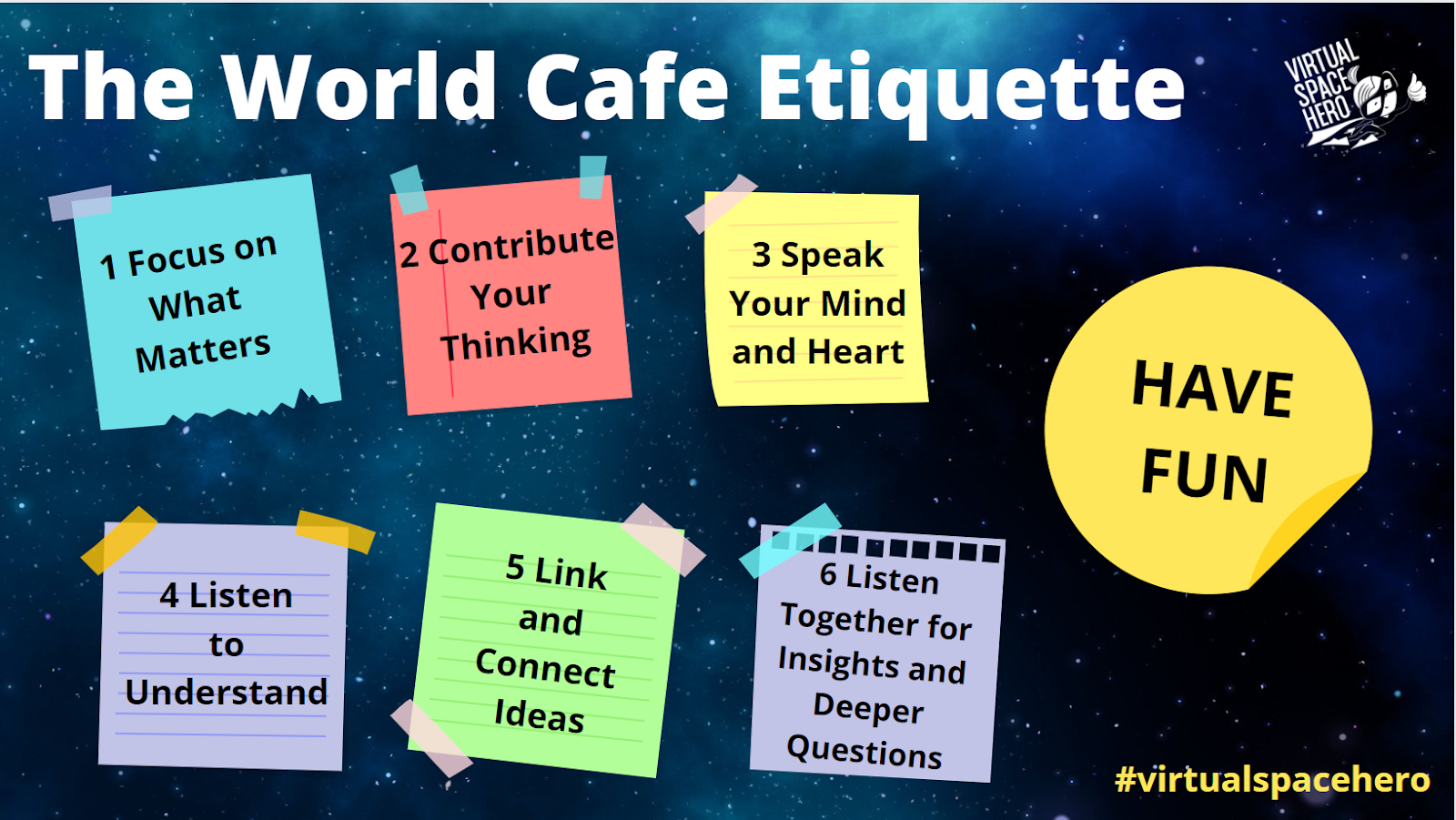 And now, how would you be doing all that in the virtual space?
Moving to the virtual space posed (?) challenges to those of us who were not used to facilitating online. There are platforms such as Remo that provide you almost with the perfect surroundings to create a virtual World Café, but it might not always be the perfect option for your purpose. Although using platforms such as Zoom, and/or Webex with breakout room functions is slightly more challenging and requires a bit more creativity, with the support of a Miro (or Mural) wall, we had really excellent experiences in facilitating a virtual World Café. 
TEDxValència use case Barbara: With the move to the virtual space we also switched our events at TEDxValència to the virtual space. I started by designing the script for a 1.5 hour session and trained our internal team to be hosts/moderators of breakout room discussions (coffee tables). Our TEDx events usually are very big, but with the new format of the TED Circles combined with a World Café methodology we allowed for small group discussions where really everybody was able to participate. We got amazing feedback from participants. Our team developed new skills of virtual facilitation, we attracted new people and overall, it can be stated that discussions were very in-depth. Each moderator/host in a breakout room had a prepared google document where he/she took notes that later on were shared in the plenary conclusion.
Step-by-Step virtual facilitation guide
So how do we actually set up a Virtual World Cafe? We have a few different methods depending on which platform you are using:
Zoom:

While previously only hosts/co-hosts could move between breakout rooms (so we used to use a workaround called the "co-host trick" by making all learners into co-hosts), as of Sept 21, hosts can now set up the option to have all participants be able to freely move between rooms, without needing any host help. Combined with the ability to name rooms (so you can have a topic per room if you so wish), and you have a nearly perfect World Cafe solution. 
Caveat & suggestions
👉 You'll need to remind your participants to update to the latest version of Zoom for this to work seamlessly.
👉 Want to make this even better? Set up a Miro board in advance with different areas set up for the various breakout rooms, allowing for easy capturing of ideas in a way that is easier to share and visualize when discussing back in the main room/plenary.
👉 Baton pass cafe— many times with World Cafes the leaders stay and other learners shift from room to room. Want to increase deep listening? Have the leader pass off their roll to another learner who takes up the new leader mantle, with the old leader joining the existing group as they rotate around.
Miro Embedding:
Another way to set up Virtual Cafes, especially if you are familiar with Miro or Mural, is to embed links to either Zoom or Jitsi (an open source alternative video tool) video rooms on the board. How do you do that?
For Jitsi, go to https://meet.jit.si/ and create as many rooms as you need, then just take the URL and paste it to your Miro board. Participants can move from room to room but clicking on the various links on the board, with the video room opening in a new browser tab. To leave a room, just close a tab. 
The same holds true with Zoom, although it is a bit more complex to set up. As you are only able to have one meeting per Zoom account at one time, you'll need to create multiple free (or paid) Zoom accounts equal to the number of rooms you want. Additionally, clicking on the link does not automatically open in a browser tab. Why even consider doing this via Zoom links as opposed to Jisti? Better video and audio quality.
A few more to consider if you're feeling adventurous:
Toasty:

File this under "coming soon, watch this space." Toasty, one of our very video facilitation platforms, has announced that in addition to all the other built in interactions they have (from Liberating Structures to design thinking and agile patterns), they'll soon have the built in options for World Cafes/Open Space movement. When they do will update with a link, but until then definitely check Toasty out for all else they enable. 

Qiqo Chat:

Qiqo is a wrapper for Zoom rooms (basically it embeds a series of Zoom rooms in an interface that lets you easily switch between them, as well as sharing documents and such) built for large scale open space free movement. If you're considering larger conference sized events, Qiqo may be worth a look, but for sessions with less than 50 people the new built on Zoom features do the job just as well, if not better. A similar alternative to QiQo is Unhangout, which has a write up on creating free moving spaces as well:

https://age-of-product.com/unhangout-virtual-barcamps/

Yotribe:

A very different sort of experience, Yotribe drops all participants as circular photo avatars onto an open canvas (the background of which can be changed), and video rooms open only when you get close to another participant or participants— if I move close to another user a room instantly opens for use and we see each other, and then if I move away it closes. Need to message all users? You can do a broadcast video to everyone as the host. Youtube comes closest to the sense of actually wandering a larger room chatting with various groups, but does come with the limitation that this is the only thing it does.  Want more structured groupings? Look elsewhere.
🙏 Thanks to Robert Kienzle for the following virtual walk-throughs 👇
Our major learnings and conclusions
While we have been facilitating many in-presence World Cafés over the past few years, in a virtual World Café our experience is that a more detailed preparation and also trained moderators are very important. A virtual event depends a lot on the energy of the participants. Through trained moderators who know the method and understand how important a high-energy level in the virtual space is to create a meaningful conversation, your virtual World Café is going to be a success.
Virtual World Cafés have the potential to be game-changing experiences for live online learning, taking people away from the feeling of Zoom fatigue. To succeed and make this possible though requires us as facilitators to:
💡 Beta test everything— grab fellow facilitators and a spare half-hour and give any of the above techniques a shot.
💡 Provide crystal-clear guidance— nothing ruins a great session like getting lost in the tech. It is worth spending a few minutes onboarding with anything as new as what we have shared above.
💡 Build a powerful debrief in plenary— what's a  good World Café's without a good wrap up? Too often we rush the debrief and miss the best opportunity to gather, reflect and build towards what comes next.