Global Case Study Challenge
No simulations. No games. Just real global virtual teams! No travel needed.
All collaboration is virtual.
The Global Case Study Challenge (GCSC) is a real intercultural and virtual experience, which provides the participants with invaluable experience for your private and professional life. Professors and lecturers from 12 universities across the globe with more than 300 students are participating in this experiential learning activity throughout the winter semester 2019!
Interested in participating in the upcoming edition? Please use the form at the bottom of this page!
The GCSC is an award winning teaching projects receiving press and media attention:
02|2020 Media report Universitat Autonóma BCN. online here.
01|2020 Pro Media Foundation Slovakia. online here.
01|2020 Párameter Media Slovakia. online here.
10|2019 Innovative Teaching Award Winner of FHWien, category E-Learning
06|2019 Nomination for national award ARS Docendi "excellence in teaching" online here.
What is the GCSC?
 The Global Case Study Challenge is developed and coordinated by me in close cooperation with the FH Kärnten (FH-Prof. Dr. Eithne Knappitsch). I organize our students in global virtual teams and assign different activities and a case study for them to work on as a team during a period of 2-3 months. While working on international business challenges, not only do students gain knowledge in the different thematic areas of the case studies, but they also experience how to work with people from other cultures, from other time zones, different study programmes and all that: Up "in the cloud"! Further information can be found here: GCSC Flyer.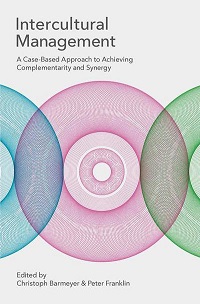 Our Case Study Book
This ground breaking textbook edited by Christoph Barmeyer & Peter Franklin looks at the issue of managing across cultures applying a constructive approach.
Intercultural Management demonstrates how cultural diversity can be used as a resource to demonstrate synergy and complementarity. Taking the form of an edited collection, it offers a fascinating range of perspectives from a global panel of experts in the discipline.
Therefore, this book is the ideal companion for our #GCSC!
More information about the book online here.
How does the final global virtual conference work?
The final presentations of the Case Studies take place during a virtual conference, which opens with a virtual keynote from a renowned international expert.
Following the keynote, student teams are assigned to different sub-tracks where the Case Studies are presented and discussed.
The virtual conference concludes in plenum with a brief discussion of key learnings.
Creator & Project Coordinator
Dr. Anna Zinenko
Interculturalist & Professor
"I never teach my pupils; I only attempt to provide the conditions in which they can learn."
Albert Einstein